If you took five minutes out of your day on either Sunday evening or the entirety of Monday and decided to use that time to browse any of the numerous TF2 forums, there's a good chance that your belly swelled forth with nationalistic pride and a few tears rolled down your cheek as you celebrated the fact that our good, clean, wholesome United States of American boys went over there and kicked the shit out of some Europeans. You bathed in the glory of Classic Mixup's victory and Leviathan Gaming's second place finish at Insomnia 46 and it felt damn good. Then you probably saw that Cyzer was Canadian and felt sick to your fucking stomach that we would ever ally with such a traitorous, weak and frail group of people. I'm sure that more than a few of you burned a Canadian flag, that others of you have been leaving scathing and threatening notes on Cyzer's Steam profile, and that a rare few of you have taken to renaming poutine to "Freedom Gravy Cheese Fries." But come on guys, we all know Cyzer isn't the enemy and he never was – this fuckin' guy is who we should worry about:
We got to see the many faces of Harbleu this past weekend, as the Multiplay camera seemed to have a bit of a neckbeard fetish. I personally got to learn a new fact about young Tony Ballo – he goes from zero to velociraptor in mere seconds:

Before each bomb, he seemed to unleash a paralyzing roar at his monitor that rendered clockwork and
cyzer incapable of shooting him out of the sky, and would have rendered Tyrone incapable of hitting a denial airshot if Tyrone had not already eliminated that ability on his own. Consider it like an airshot vasectomy – Tyrone was just saving himself from shame and embarrassment and a morning after pill further down the line. The point remains that the camera at i46 loved Harbleu, and there was very good reason for it as he was playing at the highest level I've ever seen him play. Ruwin had what was by his standards a disappointing LAN, but Harbleu was doing so much work on the flank that it made up for it and then some. Congratulations to Mr. Ballo on his fantastic play, and I'm going to go ahead and award him my LAN MVP award.
Friday and Saturday
So what happened besides Harbleu's Reign of Terror at this LAN, you might be asking. Thanks to the lovely Multiplay website, you can catch all of the match results here. But for those of you too lazy to click on the link and run through the matches, I'll give you the highlights!
The group stages were as expected – mad boring and a ton of rolls. Every single group had an undefeated team paired up with a one loss team and there were all of three close matches on the Friday. Neither Leviathan Gaming nor Classic Mixup dropped a round, while Epsilon looked more than a little shaky as they dropped two rounds to d-d-Did I Stutter? and one more to Decerto. It was clear from the day who the top five teams were, with Mixup, LG, Epsilon, Infused and TCM rotating in and out as they played practice games against each other in preparation for the knockout stages.
We hit day two and once again, the earliest set of matches were pretty uninteresting, with Leviathan and Mixup popping through the first two matches without giving up a point. Epsilon also rolled over their opponents, even taking down Premiership hopeful NITROSE, and many Europeans hit the late Saturday matches with hope that Epsilon would be there in the grand finals to challenge America for the title of greatest TF2ing nation. TCM-Gaming got knocked into the lower bracket by Leviathan Gaming and looked rather hopeless, as their scouts were having a dreadfully bad LAN and the only player who looked on-form was star demoman Kaidus. People soon got their chance to write off Infused after they dropped a map to Classic Mixup, which featured a bit of a breakdown from TF2 legend Darn as he apparently smashed his keyboard against his desk in frustration at his technical problems. Some people in Team Infused seemed to place the blame on their loss on Darn's shoulders for losing his composure and rattling their own, but that honestly seems like some bullshit – if a dude whacking his keyboard into his desk is enough to throw a team off their game, they probably weren't going far anyway.
General European hope seemed to be squashed entirely when the top European team, Epsilon, squared off with Leviathan Gaming in the fourth round. Epsilon got curb stomped on Gullywash, but made it close on Snakewater, pushing it into a golden cap before they were overwhelmed by LG's aggression, especially Mackey's super bombs that seemed to be inspired by the bald eagle he wore on his shirt throughout the LAN. What it all led up to was a meeting between Classic Mixup and Leviathan Gaming in the upper bracket finals – we started off on Snakewater, where Mixup looked definitively in the lead and managed to milk down the clock and repel all but one of LG's pushes in the process of taking a 3-1 victory. Some of the key plays were Harbleu and Ruwin getting separate picks in back to back rounds on Shade by hiding in LG's kitchen, both of which killed LG's momentum and forced them to give mid right back to Mixup. General sentiment was that with both teams playing so strong, Gullywash would be long and tense rounds with whichever team taking it close, maybe a 4-3 or a 3-2 or a 5-4 where both teams just looked outright dominant in their round wins. Shocked were we all when nineteen minutes later, the first round went to Classic Mixup after we went last-to-last-to-last-to-last-to-last, both teams trading off failed pushes until the strength of TLR's insane ubers just put LG up against the ropes and they had to throw in the towel. There would not be another cap, the last eleven minutes of the match spent with LG throwing bodies at last futilely over and over, being dominated by Enigma's heavy play and some clever utility work out of Ruwin on sniper and engineer. A 1-0 finish on Gullywash between the two best teams in the world – we really could not have asked for more.
To keep with the timeline of the narrative here: at some point in the midst of this all, i-Series admin Tapley decided to go down on a unicorn.
All were entertained, though I suspect that Nymthae's poor unicorn may have been scarred beyond repair.
European Funday Sunday
Everyone awoke on the Sunday morning, awaiting the rematch of Leviathan Gaming and Epsilon eSports. Knoxxx had watched the team's Gullywash demos and found some new insight that he thought would keep them from losing again; LG woke up early and began MGEing to warm up for their match. None of them were as early as Ruwin, however, who appeared at the venue at 10:00 AM to begin practicing for his 5:00 PM grand finals appearance. Early morning scrims were held, with all three of the remaining teams as focused and intense as they had ever been. Even those of us at home were tense; we were into it and we were on the edges of our seats ready to watch these lower bracket finals. Some of the wind came out of our sails when Leviathan handled Epsilon with ease, taking a 5-0 victory on Badlands. We had expected this immense close match with huge plays on all sides and a decisive thirty minute match; instead, we were greeted to what looked like a crumbling of the whole of Europe.
Nobody expected much on Snakewater. LG looked to be by far the better team and European enthusiasm had all but faded. When Leviathan took a 3-0 lead, it looked to be over. Epsilon pulled off their one round win, sure, but it seemed unlikely that much more would come of it... until the crowd at i46 got involved. As Shintaz told it, that one round was all the crowd needed to put all of their energy and hope behind Epsilon's TF2 team. The team found itself playing more aggressive than they had all weekend, playing quick and loose but somehow winning every engagement decisively. It was 3-2 before anyone had a chance to blink. Epsilon were pushing last with only a few minutes to go and a full uber advantage, with LG going for the desperation hold with a heavy and a sentry. And all it took to break the tension was an early uber – Epsilon came in through lower, popping at the door. Everyone got in deep. Nobody did enough damage. Shade did not die. The heavy took all of the focus fire. The sentry gun remained. Epsilon had one more push in them, but it too was not enough. For the entirety of the LAN weekend, neither of the American teams had lost a map to a European team. Epsilon were the only team to even make a dent in either of their sets of armor. Europe's best was not enough.
The Grand Finals: An-All American Affair
A few hours passed as we waited for the grand finals; most people thought Mixup were too strong, too together, to lose to Leviathan Gaming. But much like with Epsilon, the crowd's support went to LG. They were the team that bested Europe's best, it was only fair that they be the ones to win it and not the team who got to skirt around Epsilon. A series of frag videos from the Boneyard Productions Competition were played before the grand finals kicked off, the final video aired being PREM by Cube. People got to watch all of their favorite European players at their best, the top frags they could muster, in the ten minute thirty second video that won the competition. They got to watch all of those sick European gamers, knowing that none of them were good enough to topple TLR or b4nny or clockwork or Ruwin. They took out their frustration the only way they knew how: with angry signs.
I spent about an hour here, trying to capture the feeling and the level of play in the best of three grand finals. Gravelpit had it all – impenetrable double sentry defenses, two uber drops in the exact same spot, Harbleu falling to his own death, a b4nny kritz that looked like it was going to decimate the Mixup defenses and instead cost them the round. By the time Gullywash rolled around, I was so exhausted and running on fumes from my lack of sleep that all I can remember is Harbleu doming himself by shooting a rocket into the balcony while trying to chase Shade through yard. Badlands featured what was probably Mackey's greatest game ever, where he seemed to win every 1v1, every 1v2, where PYYYOUR looked like he could go nowhere without taking a direct rocket to the face. But while he was doing all of that, b4nny was locked out, constantly dead, under so much pressure that he could barely do damage before having two scouts in his face. In many ways, it felt like the Mixup versus Leviathan series from the season ten ESEA LAN. It was a set of some of the greatest matches I have ever seen in TF2. Trying to capture it in words feels like it would be a disservice. Mixup were in control for two of the three maps and LG were not strong enough to overcome it – it feels so simple when you say it like that, but it was far from it. Watch the entire VOD on Multiplay's channel here; you will not regret it.
The Rest?
There was plenty more at the LAN than just the games or Tapley's attempted inflatable fellatio. Some dude appeared straight out of a seventies porn flick to sit in the front row and erotically eat pizza in the general direction of Mixup. You think that pie is packed full of thick, juicy sausage?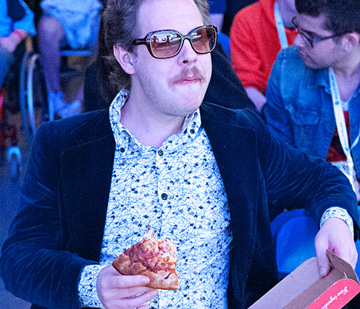 B4nny pulled off a miracle and managed to be in two places at once:
But probably the best part of the whole event was... well, the whole event. I'm not going to say that I cried like some of the weirdos out there did and I won't say that it was a life changing moment to see the Americans actually play at i46, but it was honestly a pretty cool thing that I never thought was going to happen. Does it really need to be much more than that?